Categories: winhusqvarna, world logging championships 2014
Here are the winning images from our #WinHusqvarna competition! We have Hamish Maxwell, Josh Philpotts and Joshua Pennock who all submitted images that really stood out. Congratualtions guys. You win Husqvarna professional logging boots, gloves and bag.
Above is Josh's photo and below we have Joshua and Hamish's images. Amazing work everyone.
Categories: chainsaw, chainsaws, highlights, Husqvarna, world logging championships 2014
It's been an incredible World Logging Championships - one of the best ever!
Three days in Brienz. 101 loggers from around the world, competing in six disciplines. Husqvarna wins eight medals (and even more success in the U24 class!).
Enjoy our video from an amazing event.
Categories: results, world logging championships 2014
Dutch master Arian Essenstam in the Team Relay.
Here are the results for all disciplines performed on day one of the World Logging Championships 2014 :
Overall Results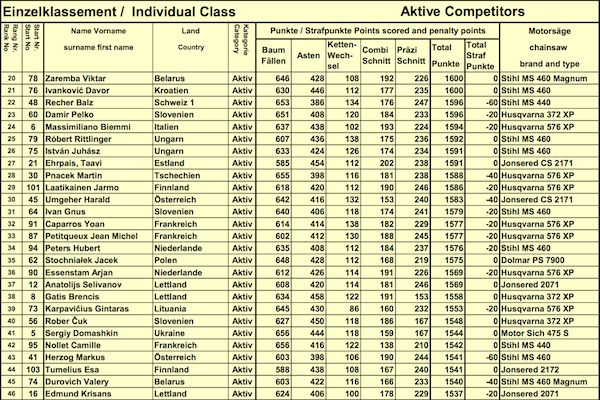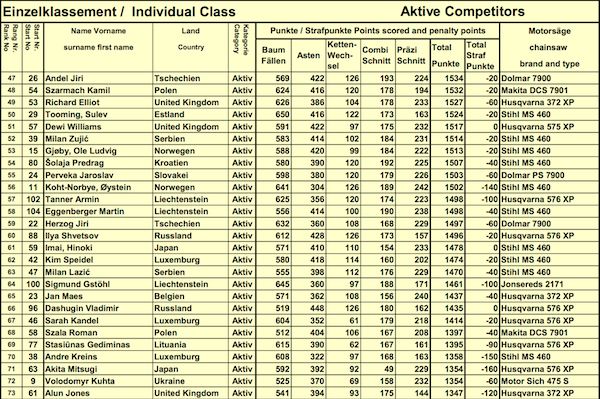 Overall Results (U24)
/
Team Standings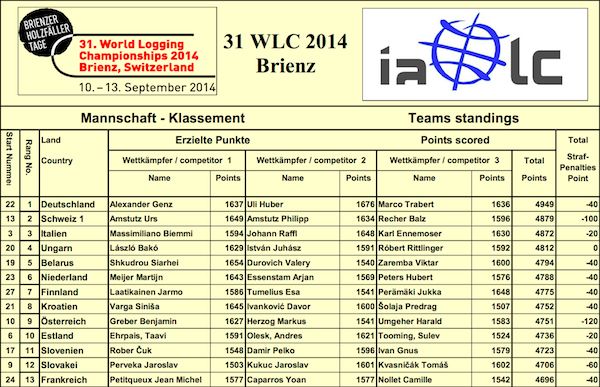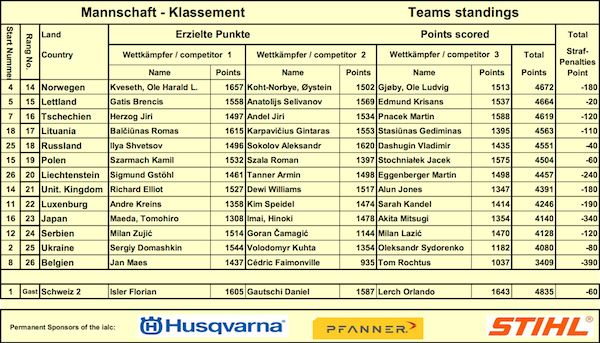 Limbing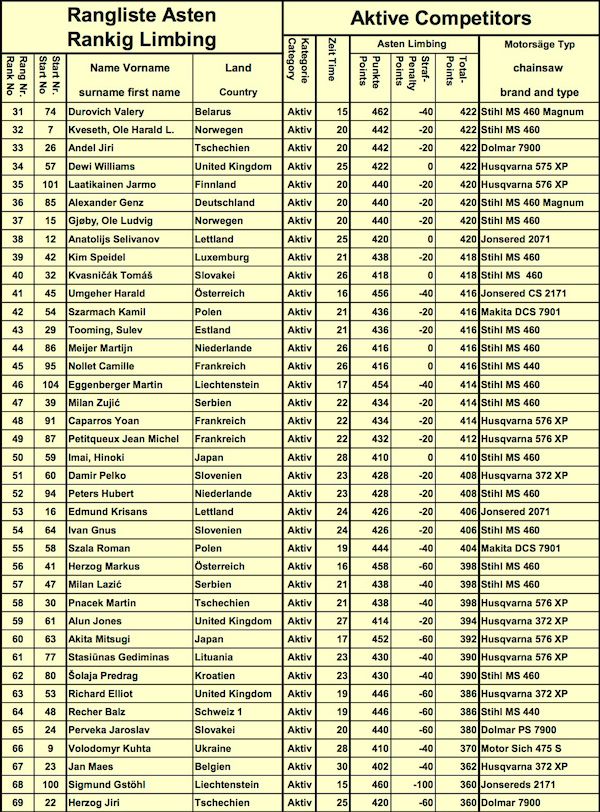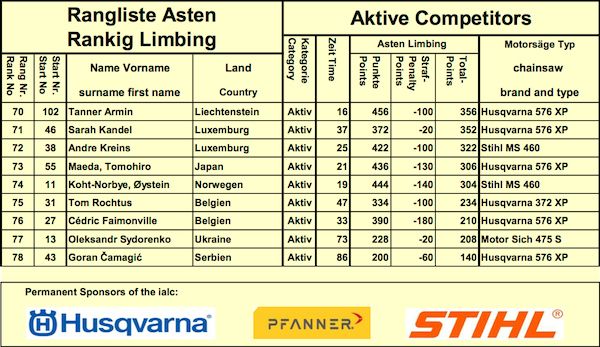 Limbing (U24)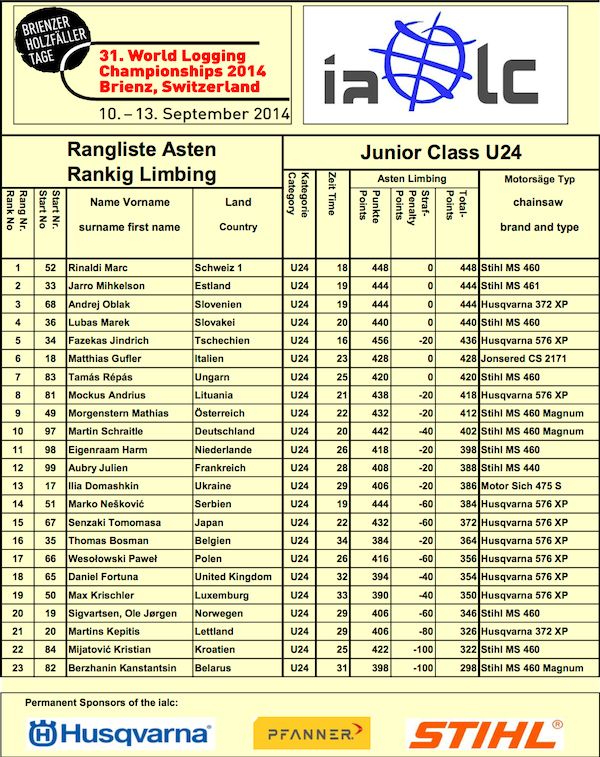 Categories: Husqvarna, WLC, WLC2014
The picturesque lakeside town of Brienz has been well and truly treated to some of the best logging seen anywhere in the world.
Over the course of three days intense competition, we've seen 101 of the world's best loggers break world records, console each other's heartache and celebrate in victory.
For the home crowd, the focus of attention has been on Swiss favourites the Amstutz brothers, Urs and Philipp. They certainly didn't disappoint as Philipp claimed the coveted gold in Felling by bringing his mast crashing to the ground and breaking his marker into a thousand tiny pieces.
Not to be out done, younger brother Urs was also among the medals, following up his bronze in Fitting Another Chain (8.9 seconds) with a fantastic gold medal in the Combined Bucking (203 points). Consistency across all the disciplines was Urs' strong suit as he narrowly piped Husqvarna frontrunner Jukka Perimaki to fourth place.
Well done to both brothers who have enjoyed an almost celebrity status these last three days as people cheered, clapped and clamoured to take pictures with them wherever they went.
The logging this year has been exceptional with one particular Husqvarna team member thrilling spectators with each discipline. You'll not be surprised to learn that man is Jukka Peramaki of Finland.
Jukka performed consistently over the course of the competition, which resulted in him picking up, a bronze medal for Precision Bucking (248 points), and finishing in fifth place. Unfortunately nerves seemed to have got the better of him in the Limbing as he carefully negotiated the branches, but was still awarded a 20 point penalty which would have resulted in the silver medal for a third year in a row. Still one of the highlights of the weekend as pointed out by WLC expert Christian Johnsson was his direct hit in the felling on day two, which brought one of the biggest crowd reactions of the competition.
It goes to show just how tough the competition has been when a world record felling score of 659 could only land him in fourth place in that event.
One of the surprise performers of the weekend was Yoan Caparros. The young French man caused a stir before the competition as rumours of a video in which he managed to change a chain in less than seven seconds circulated, but never materialised.
But he certainly didn't disappoint the crowd, breaking the world record for Fitting Another Chain with a time of 8.8 seconds. Unfortunately, his record would only last a few hours when Robert Rittlinger, who shaved a tenth off his time, beat it later that afternoon.
Finally Team Husqvarna tasted further success in the Team Relay where the Urs brothers worked as a pair to claim another silver medal, but this time for their country, on home soil. This will no doubt live long in the brother's memories.
The Italian team, featuring Husqvarna hero, and mast felling world record holder, Hans Raffl alongside compatriot Massimiliano Biemmi, finished only seven points behind Switzerland. The Italian's set a very fast pace this morning as they shot through the relay and thrashed the Ukrainian team.
It's truly been a fantastic weekend, and one that has seen Jean-Michel Petitqueux become a fashion icon, as logging fans from all over the world rushed to get a Husqvarna logo shaved into the back of their heads. Will it be a trend again at the WLC in Poland in two years' time?
That brings an end to what we're sure will be remembered as the best WLC for years to come. It certainly will be for the residents of woodworking town Brienz, as even their skilled craftsman have been left stunned by the talent, power and precision of Team Husqvarna.

Categories: world logging championships 2014
What a brilliant WLC, months of training results in three days of skill, precision, speed and power. Well done to the whole Husqvarna team. We're proud of every single one of you. #GoTeamHusqvarna
Categories: 2014wlc
After their final discipline the Belgium team members Jan Maes and Thomas Bosmans take a dive in lake Brienz
Categories: WLC2014
Skill, precision and speed are crucial... the Limbing discipline begins!
Categories: WLC2014
The Dutch master Arian Essenstam (pictured) in the Team Relay, day three.
Categories: WLC2014
Day three of the WLC 2014 begins with the Team Relay.
Categories: Husqvarna, WLC, WLC2014, world logging championships, world logging championships 2014
Watch our highlights video from day two below. Scroll down the blog for all the action and photos from day three and more...
After two wonderful days at the World Logging Championships, we are pleased to announce that Husqvarna has won not one, but five medals in the first four disciplines!
Starting with Felling, you may have seen yesterday that the older Amstutz brother Phillip, destroyed his marker by landing a direct hit, resulting in a huge 659 points.
Former WLC silver medallist Jukka Peramäki, who felled his tree in 159 seconds, also finished with 659 points. But Phillip managed to fell his mast in an impressive 132 seconds, leaving him top of the leaderboard for the whole day, resulting in a gold medal proudly resting around his neck.
If you consider that before this event the world record for Fitting Another Chain was 8.93 seconds, it demonstrates just how hard this competition is when Yoan Caparros's 8.8 seconds brought him a silver medal, not gold. Not that he minded as he held it up high and waved his French flag like his Christmas had come early!
Also in Fitting Another Chain, local hero Urs Amstutz claimed a bronze medal and sent the crowd into raptures as he slammed his fist down on the big red button in a time of 8.9 seconds.
No sooner had the stadium calmed down but Urs was at it again, this time scoring an incredible 203 points in the Combined Bucking. The crowd cheered louder and Urs found his efforts rewarded with a place at the top of the podium, holding his gold medal aloft as a deafening roar filled the packed tent.
But the day really belonged to Jukka Peramäki, who picked up a bronze medal in the Precision Bucking with a strong 248 point run. Can he go on to claim the WLC title? Anders Kragner and Christian Johnsson think so, and they certainly know a thing or two about this competition.